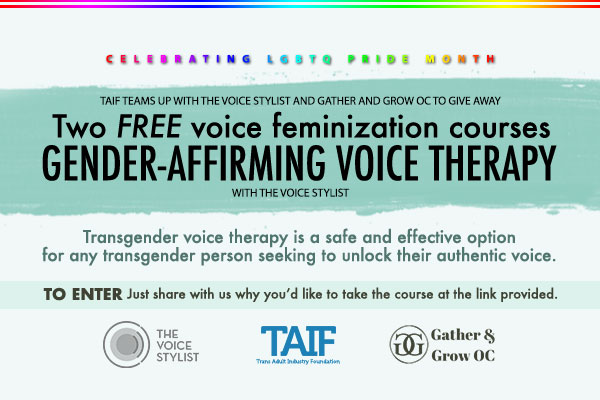 LOS ANGELES, CA – The Trans Adult Industry Foundation (TAIF) is teaming up with Gather & Grow OC and The Voice Stylist to give away two free voice feminization courses for June's LGBTQ Pride month. 
"A wise human once said that the human voice is the organ of the soul," says The Voice Stylist owner, Tina Babajanians. "My mission is to unlock the soul of each human I interact within the container of my clinic. My offerings are perfect for folks who wish to discover their vocal potential and find their authentic expression."
Speech pathologist Tina Babajanians offers gender-affirming voice therapy and coaching. Transgender voice therapy is a safe and effective option for any transgender person seeking to unlock their authentic voice. Babajanians works with a wide variety of clients, including trans women, trans men, queer, and non-binary individuals to help them discover the full spectrum potential of their voices. 
"We're so thankful for this generous offering from both Gather & Grow OC and The Voice Stylist," added TAIF Co-Director, Kristel Penn. "Vocal transition can be an important step in the transition process for trans individuals. It can cause stress and dysphoria for people who feel their voice does not align with their gender expression. It's important to note that Tina doesn't believe a trans woman or trans man's voice should sound a certain way, but rather works with people one-on-one to help them achieve their own personal vocal goals. TAIF does not believe there is one way to be trans and we respect that Tina's ethos reflects that as well." 
TAIF will be giving away two free courses from The Voice Stylist: The Self-Directed Voice Feminization Program and a 5-Session Voice Feminization Course with Tina. 
To enter the free giveaway, applicants are asked to share why they'd like to take the course by filling out the contest form here: http://www.taif.org/pride-2020-giveaway
Two winners will be chosen at random on Friday, June 26, 2020. 
The Self – Directed Voice Feminization Program is perfect for the independent client. From beginning to end you are guided with easy to follow instructions and examples to unlock your feminine voice. In this course you access to the following:
Access to Private Facebook Group

20-page Webinar Guide

30-page Client Workbook

Vocal Hygiene Plan

Ten Module Webinar Series
Each module is released once a week to hold you accountable to practicing your skills. Use the webinar guide and client workbook to guide your weekly practice. This course is most appropriate for trans women or folks who lean towards feminine.
5-Session Voice Feminization Course with Tina is a series of five sessions, one-on-one for 45 minutes with Tina. The sessions will be conducted on Zoom. This series will cover the following:
Traditional resonance training for vocal placement

Vowel modification to teach resonance for gender

Pitch training to discover your full range

 Intonation exploration

Gender features of speech and communication

Vocal wellness

Mindful Voice
This series is available for all folks who wish to discover a new voice that aligns with their identity and expression of life. 
Gather and Grow OC is also teaming up with The Voice Stylist and offering a 6-week vocal feminization workshop. Additional information: 
Six Week Community Voice Feminization Course
Date: Tuesdays, July 7th – August 11th
Time: 4:00 pm – 5:00 pm (PST) 
Investment: $99 for the six-week course
Includes: Client Companion Guide, Vocal Hygiene Guide and invitation to join private Voice Feminization Facebook Group
Space: 20 Slots Only
Please email tina@thevoicestylist.com for more information or to sign up directly. 
The Voice Stylist is run by Tina Babajanians (MS, CCC – SLP). Babajanians has a passion for pushing her professional boundaries and exploring areas of the voice that are untouched. As a master voice clinician, she has seen how communication impacts everyday life and through her practice she hopes to give a voice to anyone who seeks to live life without limitations. Babajanians holds a master's degree in the field of Speech – Language Pathology. She has been a practicing clinician for 11 years. 
Trans Adult Industry Foundation (TAIF) raises money by fundraising and corporate sponsorships to distribute funds directly to charitable organizations that provide life-affirming support services to the transgender population.This includes, but is not limited to, groups who work in housing, call centers, emergency shelters, and advocacy. The intention of TAIF is to provide resources to trans people, with a specific focus on the needs of the performers in our community. For more information, visit TAIF.org.